Greetings Family  It is with great joy and rejoicing that Randy and I write to you this month.  As we prepare to gather with family and loved ones to give thanks, my heart truly is so full of gratitude for the marvelous things God has done in our midst.  As most of you know I spent almost 3 weeks in Mexico from the end of October until the 15th of November. I want to testify of God's love and faithfulness and that His mercy truly does extend to all generations. So many lives have been touched and forever changed that I hardly know where to begin.  It would take many pages to share with you all that He has done, but let me highlight just a few stories of His wonderful life changing power!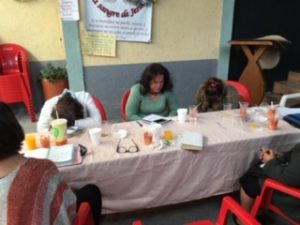 I first visited Tehuacan Mexico, a city located in the state of Puebla about 3 hours east of Mexico City.  Ruth Jara is a young Mexican girl that has been living with us here in Muskogee since August and her parents are pastors of a small MVI church in this city.  I had the honor of spending time with Manuel and Nancy and I saw the faithfulness of God work miracles in their lives and family.  Nancy, Ruth's mother, had been struggling with depression and had been recently told by doctors that her breasts were full of cysts. She didn't have anyone that she could talk to about many situations that were causing her to be anxious and worried. She shared with me that it had been over 2 years since she had been able to laugh. As we sat in the breakfast area of the hotel, Holy Spirit manifested in a powerful way. Nancy began to weep uncontrollably as she laid her head on the table.  I just gently placed my hands upon her and prayed quietly for healing and deliverance.  This went on for over 20 minutes when all of a sudden she began to laugh and laugh!  When she finally was able to compose herself she shouted "He healed me, He healed me!"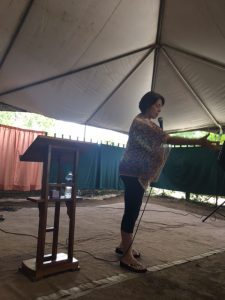 I questioned her and she explained that all of a sudden she felt a tremendous heat in the areas where the doctor had found many cysts,  then that fire moved down to each of her organs.  She saw the Lord take a large hose and He began to wash all of her organs with clean water.  Then He took off her dirty rags and redressed her with clean garments.  She just laughed and laughed and couldn't stop throughout the next days!  Glory be to God!  Later her brother-in-law and her husband joined us and God began to speak directly to their hearts and Holy Spirit brought conviction upon their hearts to repentance.  That same evening I ministered in their church and God healed many not only of physical sicknesses, but also emotional and spiritual.  One of the woman who is a member of their congregation was healed of diabetes and her entire countenance was transformed!  Praise be to God!
Divine encounters began to happen continuously throughout this entire trip!    I was able to minister to a widow and to her daughters because they were having a very difficult time adjusting to the loss of their husband and father.  The situation had become so critical that they wouldn't speak to one another, but I give thanks to Father for healing much of their pain as hope was restored when they began to forgive one another.  This widow had such an expression of anxiety when I first was introduced to her, but when we embraced to say goodbye, she was a different woman!  Praise to You my Lord!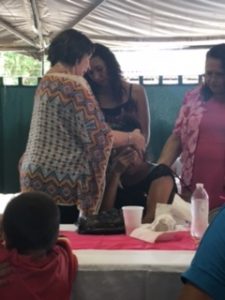 I then ministered in Ajalpan where over 40 young people rededicated their lives to Jesus.  Many had become apathetic and their hearts had wandered far from their Savior.  That afternoon I ministered in the city of San Sebastian where the healing ointment from Heaven continued to flow deeply into the hearts of His people setting the captives free and the transforming lives!
I was invited the next day to Mexico City to the home of Pastor's David and Elizabeth Robles, leaders of the Gypsy churches in Mexico.  The gypsy people are usually closed to outsiders, but the Lord has given me favor with them for many years.  Pastor David later shared with me that I was the very first outsider that they had ever invited to their house!  It was such an honor for me and God used our time together to do marvelous things.  That evening I ministered to the women because there had been a recent misunderstanding among several leaders and it had caused a division bringing much pain and hurt amongst the body of believers.  God gave me a Word for the leaders and for the young pastor that had turned his back in rebellion against Pastor David.  What is so amazing about this is that the Gypsy men are very macho and women are like second class citizens in their society!
So for these men to humble themselves and listen to what a woman had to say is a miracle in itself!  But God worked deep within their hearts as they fell on their faces in repentance and restoration began.  The next day they asked if I would go and pray for an uncle who once had walked with the Lord, but for years had gone far from Him living an adulterous life and was an alcoholic.  He was very ill and had to use oxygen 24 hours a day.  When I arrived at their home, he was lying on his bed barely breathing but he managed to walk into the living room and Holy Spirit began to speak through me and brought a deep conviction to his soul.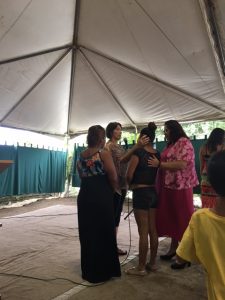 I asked permission to pray for him and lay hands upon him.  He repented of all of his sins and just wept like a child as God forgave his soul! His son arrived and he too fell to his knees before me and cried out for God to have mercy upon him and his three estranged sons. This young man had been a drug addict for many years and God set him free! This week I received a praise report that the uncle had been told by the doctors that he couldn't be without oxygen at all, not even to take a shower but now he can go for over 6 hours without the need for oxygen!  Praise you Father!
Truly there are so many more testimonies, but this month I don't have room enough to share them.  But I declare what the psalmist wrote in:
 Psalm 89:13-18
V13: You have a mighty arm; strong is Your hand, and high is Your right hand.
V14: Righteousness and justice are the foundation of Your throne; Mercy and truth go     before Your face. 
V15: Blessed are the people who know the joyful sound!  They walk, O Lord, in the light of Your countenance. 
V16: In Your name they rejoice all day long.  And in Your righteousness they are exalted.
V17: For You are the glory of their strength, and Your favor our horn is exalted. 
V18: For our shield belongs to the Lord, and our king to the Holy One of Israel.